Watch Beyonce's Epic Surprise Performance On 'Lip Sync Battle'
8 January 2016, 09:41 | Updated: 8 January 2016, 11:27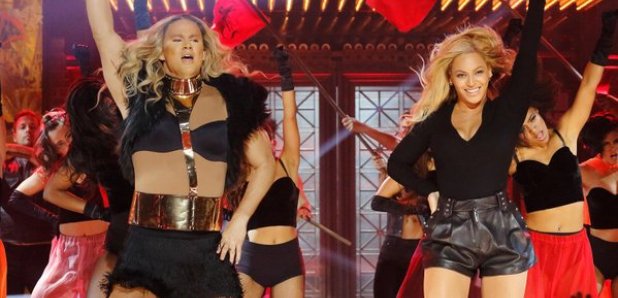 Queen Bey threw down some signature dance moves.
Beyonce surprised viewers of 'Lip Sync Battle' when she made an unexpected appearance during Channing Tatum's performance on the show.
The Magic Mike actor, who was battling his wife Jenna Dewan, covered 'Let It Go' from Frozen and performed a hilarious cover of 'Run The World (Girls)', while wearing full makeup and a Beyonce costume.
Queen Bey then shocked everyone by appearing on stage and throwing down some signature moves from the music video.
Watch the performance below:
Channing Tatum & Beyonce - Lip Sync Battle | THEBEYONCEWORLD.COM from Fansite Freak on Vimeo.
Channing Tatum & Beyoncé - Run The World #LipSyncBattle
Posted by Hit Up Angeon Thursday, 7 January 2016
The actor ended the epic performance by bowing to Beyonce.
Tatum and Dewan's battle ended with a tie for the first time in the show's history.
Meanwhile, it has also been announced that Beyonce will perform alongside Coldplay at this year's Super Bowl halftime show.
She is expected to perform both songs that she appears on from the band's recent album 'A Head Full Of Dreams'.
The Super Bowl takes place on 7th February at Levi's Stadium in Santa Clara, California.