Chance The Rapper's Reaction To Beyoncé Crashing His VMAs Interview Is Priceless
30 August 2016, 11:47 | Updated: 30 August 2016, 11:53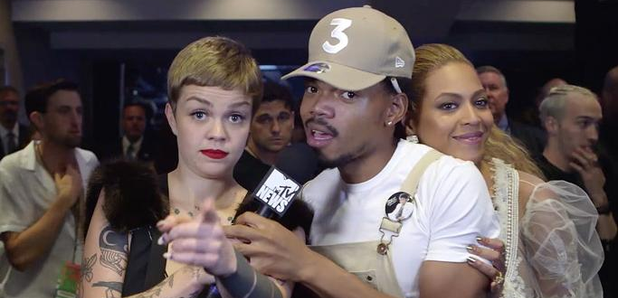 What would you do?!
Beyonce surprised Chance The Rapper during his backstage MTV VMAs interview and his reaction was amazing.
The 'Coloring Book' rapper was in the middle of warning Drake that he was "coming for his muscles", when Queen Bey popped up behind him, causing Chance to completely fan out with excitement.
Watch the amazing moment below:
Beyonce, who is notorious for avoiding interviews, briefly smiled for the camera and said hello to the host, before slipping away into a crowd of people.
Clearly still filled with excitement, Chance yelled "This my life n*gga", before bouncing away.
Meanwhile, Beyonce completely slayed her performance at this year's MTV VMAs.
The singer performed a huge medley of songs from her latest album 'Lemonade', complete with amazing dance moves, fire, baseball bats and more.