Blue Ivy Told Beyonce Off At The NBA All Star Game & Twitter Can't Cope
20 February 2018, 14:20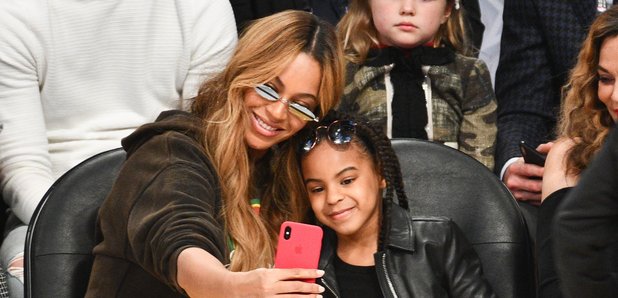 Blue stole the show.
After hilariously telling her parents to stop clapping at the Grammy Awards last month, Blue Ivy has become the Internet's sweetheart once again.
The 6-year-old daughter of Beyoncé and Jay Z was accompanying her mother and grandmother, Tina, to the NBA All Star Game last weekend, and quickly stole the show with her antics.
Blue was pictured taking selfies with Beyoncé as the pair sat on the front row, both each wearing a pair of sunglasses.
Blue Ivy Carter, heiress & socialite, pictured with a fan pic.twitter.com/rxcJammqQB

— E. (@LIBGyal) 19 February 2018
The youngster later played with the team's mascots during the game, with none other than P Diddy capturing the moment on his phone.
Back in their seats, however, Blue offered her mother a friendly hit on the arm while Diddy was showing them the photos he had taken, sending the Internet into frenzy.
Twitter couldn't handle the sass of Blue, who was pictured carrying her own $1820 Louis Vuitton bag at the game.
Blue was playing with the mascots so @Diddy came up to Beyoncé to show her the adorable moment caught on video. #NBAAllStar pic.twitter.com/qDR54h2qVv

— BEYONCÉ LEGION (@Bey_Legion) 19 February 2018
Blue Ivy has me screaming on this dull day pic.twitter.com/R1rRdt1vRx

— NASA boy (@kurtisrai) 19 February 2018
i didnt think Blue Ivy could make me feel broker than i already am but her carrying a limited edition Louis Vuitton Bleu Monogram Vernis Alma PM bag is the final nail to my coffin pic.twitter.com/1hWMe8CD20

— Blair Waldorf (@pettyyonceh) 20 February 2018
Beyoncé: a

Blue Ivy: pic.twitter.com/Vwk0RSG648

— Ericlis (@beyformando) 20 February 2018
Meanwhile, Kanye West made a surprise live performance at the NBA All Star Weekend.
The elusive rapper hit the stage alongside good friend and collaborator Kid Cudi at the Adidas event in Los Angeles.