Beyoncé Fans Aren't Happy That She Poured Expensive Champagne In A Hot Tub In 'Feeling Myself' Video
22 May 2015, 11:02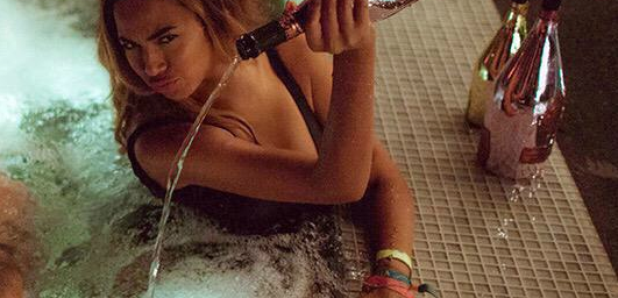 Fans angered by popstar pouring away champagne in 'Feeling Myself' video.
Beyoncé has come under fire for pouring expensive champagne into a hot tub in the music video for her and Nicki Minaj's collaboration 'Feeling Myself'.
A still from the video showing the Queen of Pop tipping away a bottle of fizz during a pool party scene has received tons of criticism on Twitter.
The brand of champagne, which some claimed to have identified as Armand de Brignac, is reported to cost between "$300 to hundreds of thousands of dollars".
Beyoncé pouring my tuition fees into a hot tub pic.twitter.com/jbkQFqmsbp

— College Student (@ColIegeStudent) May 19, 2015
"We don't make enough money as artists! Sign up for TIDAL!" *Beyoncé pours a $20,000 bottle of champagne into a hot tub*

— T. Kyle (@tkylemac) May 20, 2015
Beyonce pouring £20,000 bottles of champagne into the hot tub is a joke! If I spill a lucozade I'm fuming!

— Ian Varley (@IanVarley9) May 20, 2015
Why is everyone kicking off about Beyoncé pouring that champagne into a pool? Jay z owns the brand she probably got them for free you losers

— Astarday Lockett (@AstardaySaffron) May 21, 2015
Beyonce wasn't going to pay for your college anyways. Let her pour champagne in a hot tub.

—gert macklin fbi(@maggiecomplains) May 20, 2015
The luxury brand is owned by Jay Z, having been bought out by the rapper late last year. The exact price of the bottle in question has not been confirmed.
Some fans have suggested that the bottles were refilled with water for the shoot. Bey's representatives have not responded as yet.
The popstar recently returned from a humanitarian mission to Haiti. Reports have also surfaced that she and her husband Jay Z together donated tens of thousands of dollars to bail out Ferguson and Baltimore protesters after the recent riots.