Azealia Banks Is "Proud As F*ck" After Donald Trump Election
10 November 2016, 08:58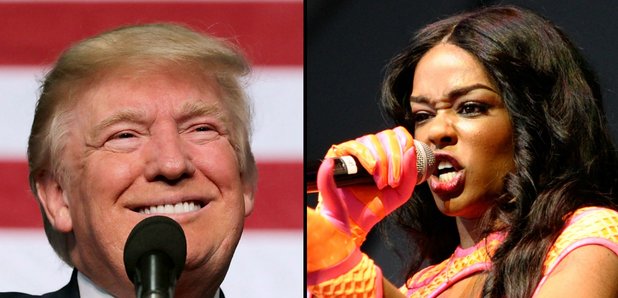 Banks has pledged her support and even made her own banner.
Azealia Banks has revealed her joy at Donald Trump being elected as the President of The United States Of America.
The controversial rapper previously claimed that she would vote for Trump because he is "evil, like America", but quickly withdrew her support after Trump's controversial comments about allegedly groping women.
However after Trump triumphed over Hillary Clinton, Banks posted a number of messages to Facebook claiming "We won" and describing herself as "elated".
She also took to Instagram where she apologized to Trump for previously withdrawing her support and described herself as "f*cking proud as "F*CK".
She added: "Thanks for letting me know that I'm not crazy (even though I fronted a few times) liberals run hollywood and it's been a COLD WORLD OUT HERE FOR ME AS A TRUMP SUPPORTER."

"America deserves a WAAAAAAAY better first female president then trash ass Hillary," Banks continued on Facebook.
"Now that the cow has lost for the SECOND time, let's set her back out to pasture."
She added: "TRUMP BEAT THE MEDIA. THIS IS DEEPER THAN POLITICS. HE BEAT THE F*CKING MEDIA. HE IS MY F*CKING HERO RIGHT NOW."
Banks then concluded by posting an image that read: "Make Azealia Great Again".