Azealia Banks Savagely Disses Cardi B, Calls Her An "Illiterate Untalented Rat"
14 February 2018, 10:53 | Updated: 10 April 2018, 14:54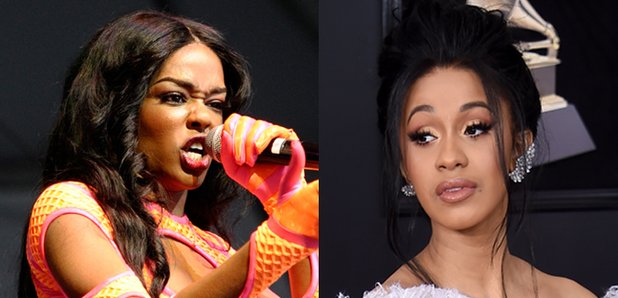 Things got personal.
It appears Azealia Banks has got some serious beef with Cardi B - and the '212' rapper didn't hold anything back with her latest comments.
Banks responded to a video posted by Jarobi White, a member of A Tribe Called Quest, via Instagram on Tuesday night.
He had reposted the video from Cardi herself, which showed her explaining whys she feels the need to flaunt her money and "brag" about her success in front of her haters.
The Grammy-nominated rapper suggested that the public are stripping artists of their humbleness and that she has to "remind" people of how far she has come.
Clearly unimpressed by Cardi's remarks, Banks fled to the comments beneath the video to fire shots at the Grammy-nomintaed star.
"Ewww. You're getting unfollowed for posting this illiterate untalented rat," wrote Banks, "This b*tch is not an artist if anyone needs to humble themselves. It's her."
The rapper took things deeper by insulting Cardi's teeth, adding: "She got her teeth done last year and they are already yellow... truest definition of take the girl out of the hood but can't take the hood out of the girl."
"Q-Tip would never." she added of White's fellow bandmate.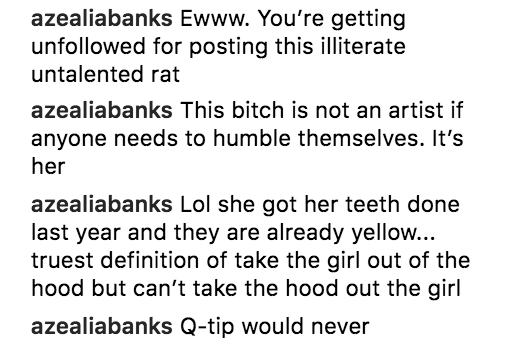 The dig comes after Banks called Cardi a "poor man's Nicki Minaj" following the success of her song chart-topping 'Bodak Yellow' last year.
Cardi is yet to respond to the comments.