Azealia Banks Leaks Rihanna's Phone Number In Vicious Social Media Feud
30 January 2017, 10:36 | Updated: 30 January 2017, 11:32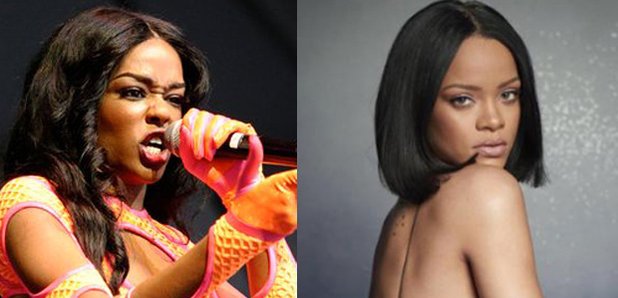 This escalated quickly.
Azealia Banks has leaked Rihanna's personal phone number online following a huge feud with the singer.
The beef started after Rihanna had responded to Donald Trump's decision to restrict entry to the U.S. from seven Muslim-majority countries.
Disgusted! The news is devastating! America is being ruined right before our eyes! What an immoral pig you have to be to implement such BS!!

— Rihanna (@rihanna) January 29, 2017
However Azealia Banks, who has frequently stated her allegiance to Trump, threw shade at Rihanna and declared her full support for the controversial ban.
"As far as Rihanna (who isn't a citizen, and can't vote) and the rest of the celebrities who are using their influence to stir the public, you lot really need to shut up and sit down," she began.

Without mentioning Banks directly, RiRi clapped back at the rapper on Instagram by acknowledging her native Barbados and referencing Azealia Bank's admission that she sacrifices live chickens as part of a ritual.

"The face you make when you a immigrant," she captioned the post, alongside the hashtags #stayawayfromthechickens, #iheartnuggets and #saveourhens.
Azealia Banks responded with a series of vile comments under Rihanna's post on Instagram.

Banks also appeared to text Rihanna's phone, claiming that Beyonce is overshadowing her achievements.
RiRi responded by temporarily making the text message her Twitter profile picture.

Azealia Banks then took things to another level by leaking Rihanna's mobile phone number to the world.

Interestingly, there were rumours circulating on social media that Azealia Banks had recorded music for Rihanna's album 'ANTI' but was later removed. However this is yet to be confirmed.
Meanwhile, Azealia Banks appears to be continuing her social media antics in 2017, following a series of high-publicized feuds with Iggy Azalea, Zayn Malik, T.I. and more.