50 Cent Responds After Fans Create Hilarious Meme Of Himself As Tekashi 6ix9ine
28 August 2018, 17:34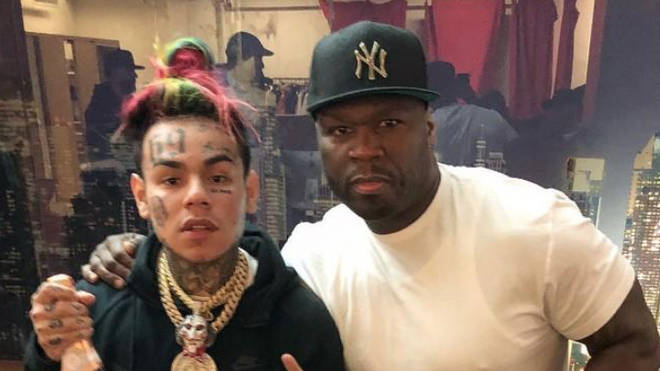 50 had the best response...
50 Cent has responded after somebody created a hilarious image of himself as Tekashi 6ix9ine.
The 'In Da Club' rapper, who collaborated with 6ix9ine on new song 'Get The Strap', hit back hilariously after posting the image on his Instagram account.
The picture shows 50 Cent with rainbow-coloured grills and multicoloured dreadlocks, alongside a huge "59" tattoo on his forehead.
"Who did this," he wrote in Instagram. "I want you n*ggas on the internet dead. F*ck everybody laughing at this sh*t."
50 Cent was one of the first major artists to show support for Tekashi 6ix9ine following his controversial past.
The pair premiered their new collaboration 'Get The Strap' at the end of Power Season 5 episode 8.
After months of teasing the catchphrase on his social media platforms, 50 Cent finally said the phrase during the TV show before his character was killed.