50 Cent And Rick Ross Reignite Their Rap Feud On Instagram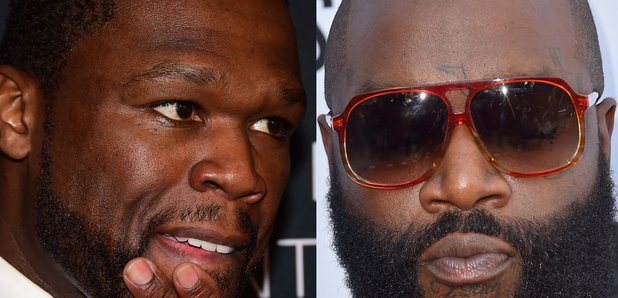 Both rappers sent disses back and forth.
50 Cent and Rick Ross have reignited their rap feud after a war of words on Instagram.
The rap beef, which dates back to 2009, started again when Fifty posted an image of Ross' torso on a t-shirt and claimed he was planning to sell it for $2.95.
Rozay responded by calling out the New York rapper's bankruptcy issues and said he's now working for 'MMG merch co.' by promoting Ross' clothing.
However things heated up after 50 revisited Rick Ross' days as a correctional officer.
He also posted an Instagram picture about Meek Mill and Drake's rap feud, which was later taken down.
The Instagram posts didn't go unnoticed by Rick Ross, who mentioned 50's son.
A video then surfaced online of Rozay opening up on the beef and mentioning Fifty's son again. But this time some serious threats were made.
50 Cent on Rick Ross Instagram is HOT over Ross mentioning his son .. "This was a bad idea" pic.twitter.com/kgDOwZK7Pg

— DJ Akademiks (@IamAkademiks) November 7, 2015
50 Cent promises to see Rick Ross soon over making comments about his son.... Uh Oh... pic.twitter.com/T2JIhIMDGX

— DJ Akademiks (@IamAkademiks) November 7, 2015
The feud continued this weekend when 50 Cent joined Tim Westwood as a special guest on his Capital XTRA show. "It's desperation [when] you hear from him at this point," 50 Cent said in the interview.