50 Cent Responds To Backlash After He Savagely Mocked Rick Ross' Hospitalisation
6 March 2018, 12:14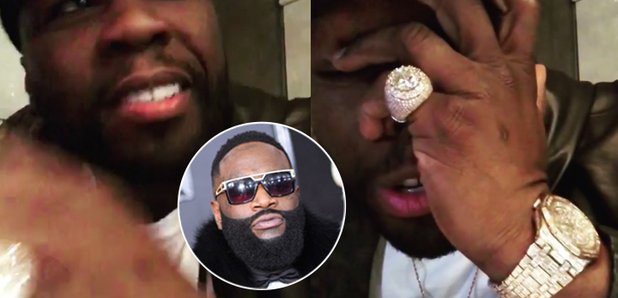 "Please get the f*ck outta here."
50 Cent has responded to the backlash he faced following his savage trolling of Rick Ross, who was rushed to hospital last week.
The MMG boss was reportedly put on life support - a claim which was later denied by his camp - after being found unconscious in his Florida mansion on Friday.
In an apparent attempt to troll his 'nemesis', the 'In Da Club' rapper posted a screenshot from the film Rocky IV where one of the characters, Drago, is quoted saying: "If he dies, he dies."
After facing serious backlash from his followers, Fiddy took to Instagram to defend his actions.
"Listen, if you don't like my humour, just stay the f*ck off my Instagram. I don't give a f*ck about what you're talking about," Fif warned.
"Motherf*ckers wanna be talking about "I ain't culture"" he said, before stating: "I'm Hip-Hop culture!"
Ross is yet to respond to 50's comments.
Following the initial reports of his illness, Rick took to social media to upload his first social post since being hospitalised.
"#FloridaBoy," he captioned the image of his wrist, which was adorned with a gold Rolex and diamond encrusted bracelets.