So far we've been blessed with huge street anthems and club bangers from Drake, Kanye West, Meek Mill and more.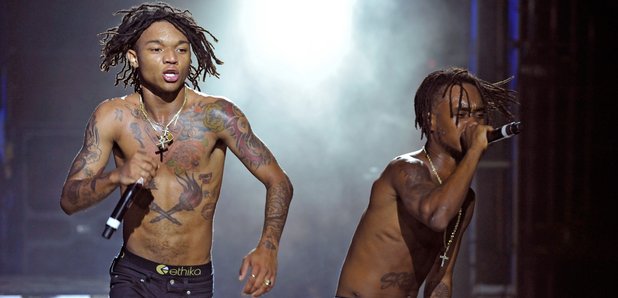 2016 has already been a huge year for Hip Hop, with Kanye West dropping his long-awaited album 'The Life Of Pablo' and Drake releasing his new album 'Views'.
There have also been big releases from newcomer Desiigner, Chance The Rapper and even Kendrick Lamar - who surprised fans with the release of his EP 'Untitled, Unmastered'.
Check out the freshest Hip-Hop songs to drop in 2016 so far and remember to check back for updates:
(Warning: Some of these tracks contain strong language that some people may find offensive.)
Rae Sremmurd Feat. Gucci Mane - 'Black Beatles'
Rae Sremmurd took 2016 by storm with their hit single 'Black Beatles' alongside Gucci Mane. The song became the soundtrack for the viral #MannequinChallenge.

Meek Mill Feat. Tory Lanez - 'Litty'
Meek Mill linked up with Tory Lanez on one of the standouts from his comeback mixtape 'DC4'.
Drake - 'Two Birds, One Stone'
Ahead of the release of his new playlist project 'More Life', Drizzy vented his frustrations over a Kanye West & 40-produced beat.

Desiigner Feat. Kanye West - 'Timmy Turner' (Remix)
Kanye West jumped on the official remix of Desiigner's viral sensation 'Timmy Turner'!

Young M.A. - 'Ooouuu'
New York rapper Young M.A. took Hip Hip by storm with her viral hit 'Ooouu'.


Nicki Minaj - 'The Pinkprint Freestyle'
Nicki Minaj made a triumphant return to Hip Hop with a hard-hitting freestyle.

Drake - '9'
Drake's introspective song '9' was one of the standout tracks from his record-breaking album 'Views'.

Fat Joe & Remy Ma Feat. French Montana & RySoValid - 'Cookin'
Fat Joe and Remy Ma followed up the success of their hit single 'All The Way Up' with a triumphant banger featuring French Montana and RySoValid. This is big!

Desiigner - 'Timmy Turner'
Desiigner turned his XXL freestyle into a real song after popular demand and followed up his debut single 'Panda' in style.

Rae Sremmurd - 'Look Alive'
Taken from their album Sremmlife 2, Rae Sremmurd dropped an anthemic Hip Hip banger. Can your speakers handle the bass?

Chance The Rapper Feat. Lil Wayne & 2 Chainz - 'No Problem'
Chance The Rapper sent a clear message to major record labels around the world with his collaboration alongside Lil Wayne and 2 Chainz.

DJ Khaled Feat. Jay Z & Future - 'I Got The Keys'
Following DJ Khaled's incredible rise on Snapchat, the music mogul followed up with a huge collaboration alongside Jay Z and Future. Major song alert!

Drake - '4PM In Calabasas'
After receiving some criticism by hardcore Hip Hip fans for the lack of rapping on 'Views', Drake showed that he is still very sharp with lyrics on a huge freestyle.


Fat Joe & Remy Ma Feat Jay Z & French Montana - 'All The Way Up' (Remix)
Following lots of controversy over Beyonce's 'Lemonade', Jay Z made a triumphant return to Hip Hop with a huge feature verse.

Drake - 'One Dance'
Drizzy switched up his signature style to provide one of the biggest hits of the year so far, sampling classic Funky House track 'Do You Mind'.

Yo Gotti - 'Down In The DM'
Memphis rapper Yo Gotti's hit single 'Down In The DM' is the perfect soundtrack for people who are obsessed with social media.

Kendrick Lamar - 'Untitled 7'

A standout track from Kendrick Lamar's surprise EP 'Untitled, Unmastered', the rapper showed off his outstanding lyrical ability.

Kanye West - 'Ultra Light Beam'

Kanye West kicked off his highly-anticipated seventh studio album 'TLOP' with a huge gospel anthem featuring Chance The Rapper!

Jay Electronica - 'The Curse Of Mayweather'
Despite very rarely releasing new music, Jay Electronica is very highly regarded in the Hip Hop world and 'The Curse Of Mayweather' proves why. The rapper combines his signature hard hitting lyrics with an infectious beat.

Desiigner – 'Panda'
Easily mistaken for Future, New York rapper Desiigner announced his entrance to Hip Hop with a huge trap anthem that was also sampled on Kanye West's 'The Life Of Pablo'.

Kanye West Feat. Kendrick Lamar - 'No More Parties In LA'
Kanye West surprised many fans when he initially teased his first official collaboration with Kendrick Lamar. However Ye' doesn't disappoint - holding his own against the Compton rapper over a soulful beat.

Meek Mill – 'Pray For Em'
Despite being written off by many following his feud with Drake, Meek Mill made his return to Hip Hop with a huge street banger.

Drake – 'Summer Sixteen'
Drake unveiled the first official song from 'Views From The Six' - a hard hitting track that took shots at Meek Mill and fellow Canadian Tory Lanez.