Skepta Wins Prestigious Ivor Novello Songwriting Award
19 May 2017, 10:21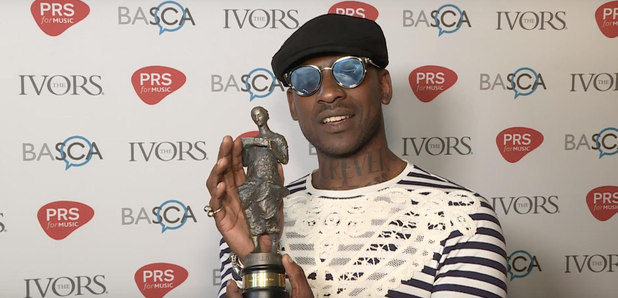 The 'Konnichiwa' MC picked up two awards on the night!
Skepta won two awards at this year's prestigious Ivor Novello Awards in London last night.
The Grime MC, who missed out on a BRIT award earlier this year, took home Songwriter Of The Year award and Best Contemporary Song for his underground anthem 'Man'.
Accepting the award wearing a flat cap and stripy jumper, Skepta explained his musical influences.
"So many people around the world are writing music for different reasons but songs like One Love by Bob Marley showed me that if you write about a true emotion it stands the test of time, it doesn't matter what time of the Earth we are in, it's always going to mean something."
Man like Skepta keeping it real got to stand for something as you were LG x

— Liam Gallagher (@liamgallagher) May 18, 2017
He continued: "Any time I write music I try and write from a true emotion and I can feel when it's not right because I'm just not at that point, so I hope they are more times like that for everyone that writes songs."
He also gave some important advice to UK artists trying to replicate his success.
"When I make music I try and make the songs be big for themselves. Because if it does start to become big because of [awards], then when they don't want to give me [awards] any more, then I'm not cool any more.
"But my coolness comes from the inside when I wake up in the morning."
Watch below:
Meanwhile, Skepta will be appearing at Boy Better Know's upcoming takeover of the London's O2 Arena on 27th August, which will feature football, roller skating, music and more.