There is not one bad review of Dr Dre's 'Compton' on the whole of Twitter.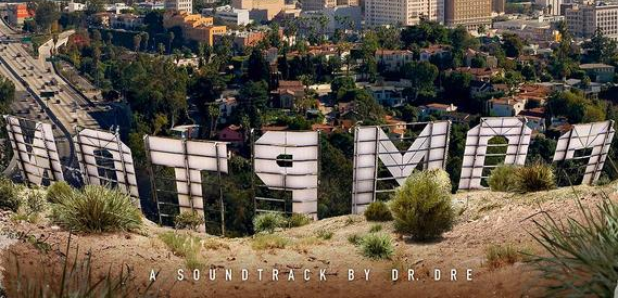 To say a brand new Dr Dre album was long-awaited would be an understatement. It's been 16 years since the legendary rapper dropped a full album and many of those were filled with rap fans hoping and praying that one day they would wake up and Dre's highly-anticipated 'Detox' album would have finally arrived.
Although 'Detox' wasn't to be, today Dr Dre answered prayers by releasing 'Compton' - a 16-track soundtrack to accompany his N.W.A biopic 'Straight Outta Compton.'
Filled with a ton of epic features - Snoop Dogg, Eminem and Kendrick Lamar - to name a few, Twitter has gone into meltdown as everyones first-listen reviews begin to pour in.
Here's what people are saying about 'Compton A Soundtrack By Dr Dre,' so far:
First impressions were pretty good.
Naaahhh this #Compton album got me lit this morning... Rolled into the office like pic.twitter.com/VR9TEb4Xb4

— Jebonair (@iAMJebonair) August 7, 2015
Honest, raw, orchestral, perfect. Dre's cemented his legacy. #Compton

— Billy Carroll (@BillyCarroll_) August 7, 2015
Listening to the new @drdre #Compton album got me like pic.twitter.com/PGPoVJmE0P

— LordFinesse (@_1D33P_) August 7, 2015
And then people listened a bit harder and really experienced the mixing...
Dr. Dre's mixing on #Compton got me hearing clarity I didn't know my monitors were capable of

— Curtiss King (@CurtissKing) August 7, 2015
You hear that? That's called quality recording, mixing and mastering. That is called letting instruments have space. #Compton

— LEFT (@LeftSentThis) August 7, 2015
I need the liner notes for the #Compton album. It's so tight I want to know who played every instrument

— Tariq Nasheed (@tariqnasheed) August 7, 2015
And all of a sudden everyone felt like it was the early 1990s again.
This is album will satisfy your hunger for old school hip hop #COMPTON

— GLORY (@Los_Acacios) August 7, 2015
Dr. Dre's #Compton makes me wonder what the hell I've been listening to since 1999.

— AtDKhariJames (@DKhariJames) August 7, 2015
Or did it?
I thought Dr Dre's new record would bring me back to the '90s. Instead #Compton is breaking new ground. Amazing.

— Dave Steele (@Dave_Steele) August 7, 2015
Have we spoken about Kendrick Lamar's verses yet?
All Of Kendrick Lamar Verses On #Compton pic.twitter.com/8EywHLna5V

— DORIAN‼️‼️ (@Trillsimmons) August 7, 2015
Yo! @kendricklamar Verse on 'Deep Water'!!!!!!!!!!!!!!! #Compton pic.twitter.com/OhuwTbfBca

— John Noire (@NostalgicPrsnt) August 7, 2015
The song "Deep Water" with Kendrick Lamar & Dr. Dre on the #Compton album pic.twitter.com/qX00ef8DgE

— Matthew A. Cherry (@MatthewACherry) August 7, 2015
Twitter was unanimous that one person, on one verse, completely stole the show.
Eminem's verse on Medicine Man is a masterpiece. #Compton

— Kanan St. Patrick (@MarshFME24) August 7, 2015
JESUS LAWD, @Eminem 's verse in "Medicine Man" on @drdre 's new album #COMPTON . pic.twitter.com/8QoRY9ZLrY

— Brianne (@Briadoublene) August 7, 2015
Live footage of the studio after Eminem dropped that Medicine Man verse. #Compton pic.twitter.com/i1hcSiG51O

— Karim A. (@Kuhreem) August 7, 2015
And Dr. Dre dam well knows it. There's one stand-out lyric that says so.
"I was gettin money before the Internet, I got eminem checks I ain't even opened yet."#Compton

— Doc Soto (@thatsotoguy) August 7, 2015
To conclude...
Hands down #Compton is the best Hip-Hop album of the year so far!

— Phenomenal News (@VShady17) August 7, 2015
The production on #Compton is absolutely flawless. The theme and features fit perfectly. @drdre is a genius. This was worth the wait

— MOBO AWARDS (@MOBOAwards) August 7, 2015
Hip hop needed this album, thank you @drdre #compton

— marissa (@wizardofodd_) August 7, 2015
This #Compton stream got my phone like pic.twitter.com/a6CrsGKdyz

— not Anthony Falcon (@AdotFalcon) August 7, 2015
Just finished listening to Dr. Dre's new #Compton album. Here's my review pic.twitter.com/rqB8PP3HzA

— Matthew A. Cherry (@MatthewACherry) August 7, 2015
THANK YOU DRE!