A-List friends rush to defend the reality star.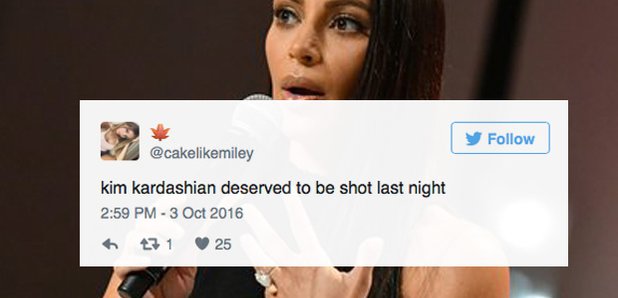 Kim Kardashian has been bombarded with Twitter abuse following her gunpoint attack in Paris this week.
Users were quick to cruelly mock the 35-year-old mother of two after the horrific incident.
Kim was reportedly left 'badly shaken' but 'physically unharmed' after having millions of dollars worth of jewellery stolen from her, whilst being held at gunpoint by a pair of armed robbers.
And whilst some users were sympathetic, others were not so kind.
kim kardashian deserved to be shot last night

— (@cakelikemiley) October 3, 2016
@SkyNews @KimKardashian should have gone the whole hog and finished her off aswell. Can't wait for Kanye too make this about him

— AJ Morley (@AlexMorley1) October 3, 2016
Kim Kardashian robbed at gunpoint in Paris... Finally some good news on a Monday.

— Steve Allen (@Steve_Allen92) October 3, 2016
Bet the same people that robbed #KimKardashian robbed Ryan lochte

— je ne sais quoi (@paora420nz) October 3, 2016
Kim Kardashian was held at gunpoint in a Paris hotel. Man will be charged with not pulling the trigger and saving humanity from mediocrity.

— The House Of WTF? (@TheHouseOfWTF) 3 October 2016
After the barrage of hateful comments made their way across social media, many celebrities jumped to Kim's defence.
Among the names were comedian and presenter James Corden, model Chrissy Teigan and journalist Piers Morgan.
People making jokes about @KimKardashian tonight would do well to remember that she's a mother,a daughter,a wife,a friend.Be nice or shut up

— James Corden (@JKCorden) October 3, 2016
Some shit just isn't funny. I see you trying, but it isn't.

— christine teigen (@chrissyteigen) October 3, 2016
Fame is interesting. Celebs are supposed to love you guys while also knowing you'd make a meme of our dead bodies to get retweets

— christine teigen (@chrissyteigen) October 3, 2016
Feel very sorry for @KimKardashian . Must have been a terrifying experience. #Paris #robbery

— Piers Morgan (@piersmorgan) October 3, 2016
Kim has since been reunited with husband Kanye West and has returned to LA after the shocking ordeal.
Kanye abruptly ended his concert at Meadows Festival in New York on Sunday due to a 'family emergency'.